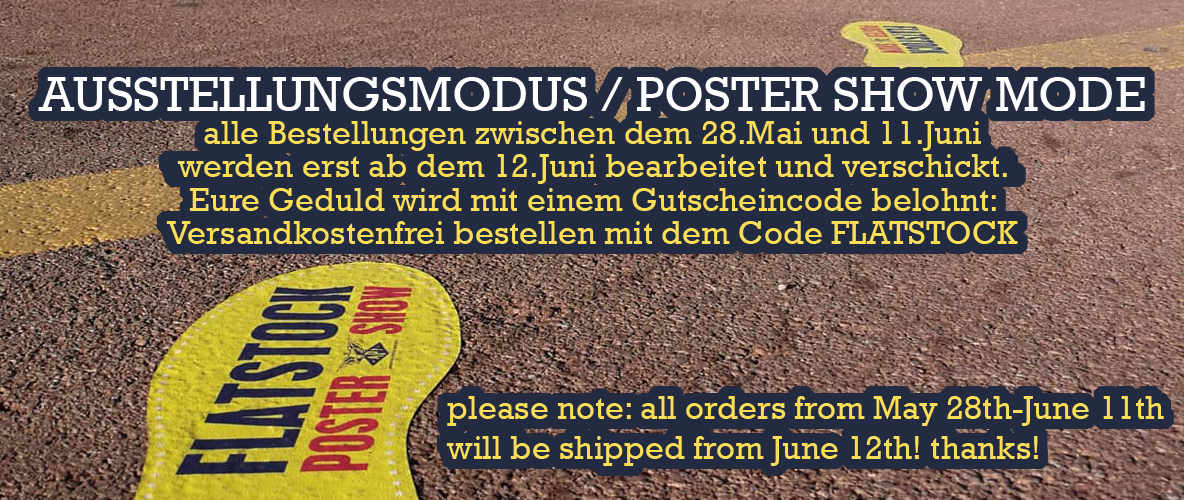 PFINGSTPAUSE: alle Bestellungen im Zeitraum 28.Mai bis 11.Juni 2023 werden erst ab dem 12.Juni bearbeitet und verschickt. Für eure Geduld bedanke ich mich mit einem Gutscheincode:
Gebt am Ende der Bestellung den Code FLATSTOCK ein, so entfallen die Versandkosten!

Für den Versand innerhalb Deutschlands wird eine Pauschale von € 3,90 berechnet - unabhängig von Artikel, Menge und Gewicht - ein kleiner Versandkostenanteil für mehr Bestellfreude.

Die Option "PICK-UP" zur Selbstabholung steht aus organisatorischen Gründen aktuell nicht mehr zur Verfügung. Solltet Ihr trotzdem das Bedürfnis nach einem persönlichen Besuch haben, nehmt Bitte für einen Termin im Atelier Kontakt mit mir auf.

Als Bezahlmöglichkeiten stehen im Shop Kreditkarte (bevorzugt) oder PayPal zur Verfügung.

Du möchtest gerne per Überweisung bezahlen?
Kein Problem, schick mir eine Email oder nutze die Kommentarfunktion im Shop, gib deine Wunschartikel und Versand-/Rechnungsanschrift an.
Im Gegenzug sende ich Dir eine Rechnung zur Überweisung per Vorkasse.
In der Regel erfolgt der Versand der bestellten und bezahlten Artikel innerhalb 3-5 Werktagen mit DHL bzw. Deutsche Post. Aktuell bearbeite ich Bestellungen in der Regel am Mittwoch.

Bei Bedarf und wenn es eilig ist kann auf Wunsch auch eine unmittelbare Bearbeitung erfolgen - dafür bitte einfach am Ende der Bestellung einen entsprechenden Kommentar hinterlassen und ich tue mein Möglichstes.
Alle Plakat-Bestellungen werden in der Regel gerollt im stabilen Versandkarton geschickt, bei größeren Mengen und in Kombination mit Büchern erfolgt der Versand als Flachpaket.
Solltet Ihr die eine oder andere Variante bevorzugen bitte ebenfalls einfach einen kurzen Kommentar am Ende der Bestellung hinterlassen.
Versand erfolgt innerhalb Deutschlands als DHL-Paket inkl. Sendungsverfolgung.
Einzelne Mini-Prints (ungerahmt) werden als Maxi- oder Großbrief per Deutsche Post verschickt.
Außerhalb Deutschlands als DHL-Warenpost oder DHL-Paket inkl. Sendungsverfolgung.
INTERNATIONAL SHIPPING
SPRING-BREAK: I'm off for a poster show from May 28th to June 11th. All orders during that time will be handled and shipped from June 12th. Thanks for your patience!

International shipping of purchased products is regularly within 3-5 working days.
All orders are usually shipped rolled in a proper tube, only bigger orders and combinations with books will be sent out as a flat package. Mini-/ and Midi-Prints without frame will be shipped out in a flat envelope.


IMPORTANT - INTL SHIPPING OF FRAMES / FRAMED WORK

Due to the recently changed sizes & prices from DHL, shipping of FRAMED posters or FRAMES seperately is not possible for the price as displayed!
Sending a single frame as DHL-package causes 45.-€ shipping costs!!!
If you consider ordering FRAMES or FRAMED work, get in touch in advance or expect a seperate invoice. Thanks for your understanding.

Shipping within Germany as DHL Paket with tracking.
Outside germany as DHL maxi-letter or DHL-package with tracking.